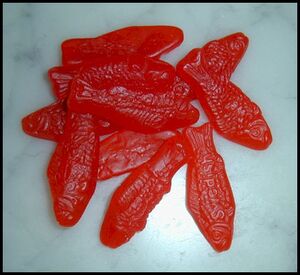 Swedish fish are a delightful, chewy candy made by Cadbury Adams, in Canada. They're fat-free and come in these types:
Original
Salmiak
Aqua Life
Coming Soon!
The original Swedish Fish are usually a red color.
The original red color along with orange, yellow and green.
Salmiak flavor is a licorice-y sort of flavor.
Aqua Life
Edit
The aqua life brand of Swedish Fish showcases not just the original fish, but starfish, whales, puffer fish, seahorses, and dolphins, as well.
Comes in the flavors passion fruit, pina colada, tropical island and beachy punch.
Coming soon!